STRATEGIE/ KOMMENTAR
2. Oct. 2015
Banken und FinTechs – Das Hecheln nach der Möhre kostet Zeit, Fokus und nimmt den großen Hunger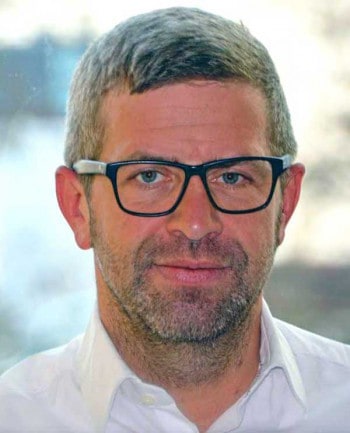 Vor gerade einmal zwei Wochen sagte Carsten Maschmeyer im manager magazin das große FinTech-Sterben voraus – kaum ein paar Tage später sind es Kooperationen von Banken und FinTechs, die die Branchen-Schlagzeilen dominieren (Kasten s.u.). Diese Kooperationen sollen nun also einen Teil der vielen Herausforderungen lösen. Für Banken die Digitalisierung und für FinTechs den Kundenzugang und Finanzierung. Aber ist das wirklich so einfach?
von André M. Bajorat, Geschäftsführer figo
E
in Tweet von Jan Sessenhausen (
@jsessenhausen
, Software & Technology Investments bei Tengelmann Ventures) vom vergangenen Wochenende hat mich über das Thema nachdenken lassen. Sein Tweet: "Engaging a startup in cooperation talks is the cheapest way for an incumbent to defocus it, slow it down and thus reduce its threat level." (Etwa: "Mit einem Startup in Kooperationsverhandlungen zu treten, ist der der billigste Weg für den Platzhirschen um ihn abzulenken, auszubremsen und seine Bedrohung zu reduzieren.") – was er uns sagen will: Das Hecheln nach der Möhre kostet Zeit, Fokus und nimmt den großen Hunger. Und wahrscheinlich ist diese Sicht genau das Gegenteil vom "schlichten" Glauben an die Kooperation als Selbstzweck.
So sieht die Kooperationlandschaft zwischen Banken und FinTechs heute aus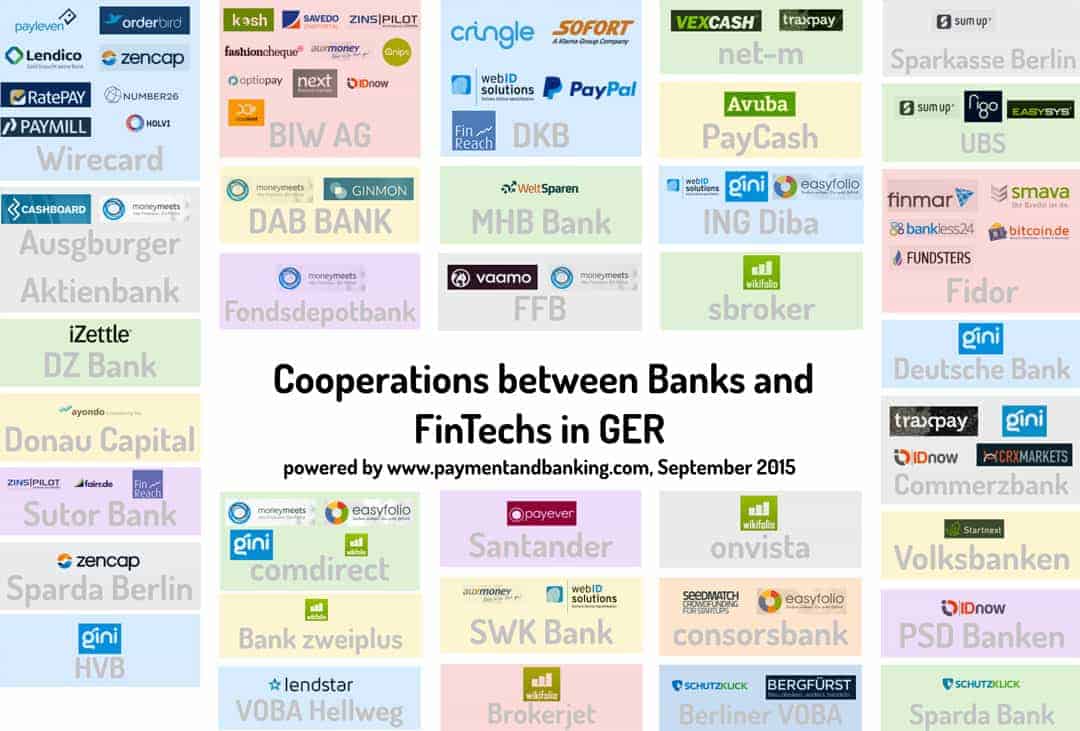 André Bajorat – PaymentAndBanking.com
Der Rat: Kooperationen schon im Vorfeld von beiden Seiten genauer Untersuchen
Aus meiner Sicht sollte man daher die  Kooperationen näher betrachten, da die Zusammenarbeit zwischen Bank und FinTech auf unterschiedliche Arten möglich ist. Und erst nach der näheren Betrachtung kann man den möglichen Wert für die eine wie die andere Seite bewerten. Folgende Arten der Zusammenarbeit sehen wir aktuell:
Die Bank als Lieferant für das FinTech (White-Label Bank)
Unzweifelhaft bietet diese Kooperationsart ein Mehrwert für beide Seiten, sofern sich beide Seiten mit den entsprechenden Rollen (und dem Rollenmodell) zufrieden geben. Der Vorteil: FinTechs nutzen die bestehenden Infrastrukturen der Banken und können schnell und recht einfach mit ihrem Business starten. Im Gegenzug bekommen Banken mehr Nutzer und Last auf die Systeme und können indirekt ohne echte eigene Investitionen von innovativen Angeboten profitieren.
Das dabei noch weitere Anforderungen an die (White-Label) Banken hochkommen, steht auf einem anderen Blatt.
FinTech als Lieferant für die Bank  (FinTech Lösungen für die Bank)
Eine Art der Zusammenarbeit die Banken seit eh und je kennen und von daher keine echte Herausforderung für die Bank darstellen. Hier liegen die Fragen oft eher beim FinTech. Viele der heutigen FinTech Lösungen sind als echte "Endkundenprodukte" gestartet. Diese Lösungen nun als Produkt an Banken zu geben, steht häufig dem Selbstverständnis des FinTechs entgegen. Kann das FinTech diese Hürde überspringen, steckt in diesen Zusammenarbeit, oder besser Lieferantenbeziehung, eine Menge an Potential für beide Seiten. FinTechs bekommen große Kunden mit Last und Banken können meist schneller als selber neue Lösungen an ihre Kunden bringen.
Vertriebs / Produktkooperation zwischen Bank und FinTech
Diese Art der Kooperation ist im sehr seltenen Erfolgsfall sicher ein guter Weg für beide und die einzige Kooperation die das Wort wirklich verdient und nicht eine reine Kunden / Lieferanten Beziehung darstellt. Zugleich stecken aber auch die meisten Fallstricke darin – nämlich Fokus und Speed zu verlieren. Die typischen Soll-Bruch Stellen einer solchen Kooperationen liegen in Themen wie "Wem gehört der Kunde", "Datenschutz", "IT-Auslagerung" und gern auch in "Exklusivitäten" die nur sehr selten einen Sinn machen.
Wenn man diese Art der Zusammenarbeit etwas kritisch betrachten mag, kann man auch sagen, dass viele dieser Kooperationen nur deshalb entstehen, da die ursprüngliche Idee des FinTechs nicht wie geplant funktioniert. Würde sie wirklich funktionieren, wäre der Weg über den "Umweg Bank" nicht nötig, da nur die wenigsten FinTech-Ideen mit dem vorab definierten Ziel entstehen, in eine Kooperation mit Banken zu münden.

Aktuelle Bank/FinTech-Kooperationen
Vier Punkte für eine erfolgreiche Kooperation
Ob eine Kooperation zwischen Bank und FinTech Sinn macht, lässt sich nicht binär Beantworten. Wie mein Jura-Prof im Studium schon immer sagte: "Es kommt darauf an". Gegen die Kunde / Lieferanten Beziehung kann man gar nichts sagen. Ob Vertriebs- und Produktkooperationen sinnvoll sind, muss man pro Einzelfall bewerten, meist stellen sie aber nur einen Plan B für das FinTech dar.
Wichtig scheint mir im Rahmen der möglichen Zu­sam­men­ar­beit, dass sich beide Seiten im Vorfeld über folgende vier Punkte einig sind: 
1.
Rollen klar verteilen (Rollenmodell),
2.

ein klares 
Ziel setzen,
3.
die Möhre vor der Nase darf das Ziel nicht verschieben und
4.

die 
Kommunikation muss auf Augenhöhe stattfinden.